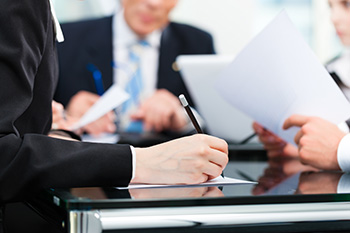 Litigation is an adverse proceeding in which there are often times a clear winner and loser, which is often determined at trial. In my experience as a civil litigation defense attorney, I can tell you that it is also a rather lengthy and expensive process. As a result, a large number of civil cases settle, an alternative form of resolution, prior to even reaching trial. In addition, the courts also encourage and attempt to facilitate settlements amongst parties, through mandatory settlement conferences, fostering alternative dispute resolution amongst the parties by way of mediation or arbitration, or persuasion of the judges themselves, as a way to promote judicial economy and efficiency within the court system. In California, settlement offers are governed under Section 998 of the California Code of Civil Procedure (often called "998 Offers").
Under Section 998, the law provides that not less than ten days prior to the start of trial or arbitration, "any party may serve an offer in writing upon any other party to the action to allow judgment to be taken or an award to be entered in accordance with the terms and conditions stated at that time."
The offer shall make a statement of the amount of settlement requested, and any terms and conditions the party seeking settlement would want to impose on the settlement agreement, as well as a provision allowing for acceptance of the offer by the accepting party and the signing of such acceptance of the agreement.
In addition, there are certain requirements to impose a Section 998 offer. First, the offer must specifically refer to Section 998 in its offer, a mere offer for settlement is not enough. Second, only reasonable, credible offers will be accepted. "[T]he pretrial offer of settlement required under Section 998 must be realistically reasonable under the circumstances of the particular case." Wear v. Calderon 121 Cal. App. 3d 818, 821 (1981). Additionally, only unqualified acceptance of a 998 offer is enforceable and in the case where there are multiple parties. If a party accepts the offer, the signed offer is thereby filed with the court and judgment is entered. If the accepting party fails to accept the offer prior to the commencement of trial or within 30 days, by whichever occurs first, the offer is deemed withdrawn. While Section 998 offers seem to simply lay out the requirements for settlement, and are in effect beneficial to achieving its primary purpose of encouraging settlement, this statute is rather deceptive in nature. While the expense of trial is one reason to accept such offers, the main incentive behind the acceptance of Section 998 settlement offers derives from statutory conditions imposed, such as monetary penalties, on the parties for failure to accept such offers. In the Bank of San Pedro v. Superior Court, the Court found that the policy behind Section 998 offers "is to encourage a settlement by providing a strong financial disincentive to a party – whether it be a Plaintiff or a Defendant – who fails to achieve a better result than that party could have achieved by accepting his or her opponent's settlement offer."  3 Cal.4th 797, 804 (1993).
More specifically, Section 998 imposes statutory penalties, both mandatory and discretionary penalties, on parties who reject such offers and fails to reach a more favorable result at trial or binding arbitration. While the language of Section 998 is straightforward, the effect of such penalties is dependent on whether it is the plaintiff or the defendant that makes the offer.
Offers by a Plaintiff. If plaintiff makes a Section 998 offer, and a defendant rejects the offer, and fails to achieve a more advantageous result at trial, the Court imposes penalties on the defendant. When this situation arises, a court may impose additional costs on the defendant for reasonable costs incurred by the plaintiff such as expert witness fees, and a pre-judgment interest of ten percent per day beginning on the date of plaintiff's first Section 998 offer to the date of judgment at trial. CA Civ. Code §998(b).
On the other hand, offers by a defendant may have a more of a significant impact on the decision of a plaintiff to agree to settlement, for there is a greater harm imposed on a plaintiff for failure to accept a 998 offer and obtain a more favorable result at trial.
Offers by a Defendant. In the instance where a plaintiff rejects the defendants' Section 998 offer and fails to obtain a more favorable judgment at trial, the plaintiff is no longer entitled to recover court costs, and must pay the costs of the defendant from the time of the offer to the time of judgment at trial. The court also retains discretion on whether or not to award all costs incurred by the defendant in defending the lawsuit as well as reasonable costs sustained in preparation of trial, such as fees for expert witnesses.  In this occurrence, if the awarded costs exceeds plaintiff's recovery from trial, the court will enter a judgment against plaintiff for the difference payable to the defendant. CA Citv. Code §998(c).
While the risks of Section 998 penalties are worrisome, generally there is not enough of an incentive to settle. Often times the point in which a 998 offer is received the parties have already committed to the expense of litigation. Although such offers may not be accepted, they do have the benefit of helping to initiate communication discussions between the parties, where a less invasive agreement may be reached.
Therefore, my advice as a civil litigation attorney is that it is always a good idea to settle the case accordingly without resorting to a trial where risks and costs increase.
In deciding what offers to make and accept, all discovery should be completed in making a full and informed decision.
All offers should be reasonable and practical. Otherwise, the essence of the rule quickly dissipates.